Friday 17 th July 2015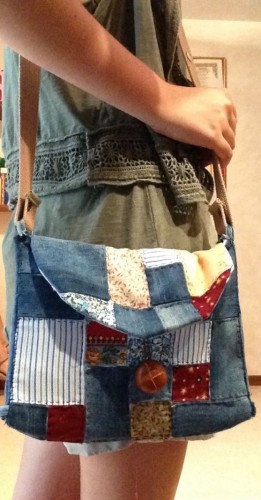 So this is the handbag I was talking about. I took me around 30 hours to make it and I am so happy I finally finished! I made this with some old jeans, newspaper (on the inside), some scrap pieces of cloth and a strap from another bag. The idea is completely mine, and I practically improvised the whole thing, not knowing much about any particular techniques to use. In fact, my sewing machine does not work very well (or perhaps I just don't know how to use it) so I made the whole thing by hand. Totally handmade! Yes. My fingers do hurt. Well hopefully this was worth the effort and you like it, and more importantly (as I can already guarantee that I like it) that it will be of use and will not fall into pieces on the first day. It seems pretty sturdy, so hopefully my expectations are correct! If you want to read about the process of making it to perhaps inspire you to make one yourself, click 'read more'.
Thursday 9 th July 2015
I have started the complicated process of making myself a handbag out of some of my old jeans, newspaper, and other pieces of cloth - but I am far from finishing it.
My grandmother's birthday was coming up so I decided to interupt the process to make a much smaller item out of the same materials and technique as a gift for her.
So use your imagination to imagine how my handbag will look like!! I have never tried anything quite so complicated and my sewing machine does not work, so it will definetely take a lot of time!
I hope you like the little pouch I made for my grandmother and the instructions will come soon when I finish it!
Click read more to see the pictures!
Saturday 15 th March 2014
Something different to do each season of the year!
Click read more to see some easter bunnies made out of ceramics and a ceramic santa claus I forgot to upload during christmas.
Thursday 28 th November 2013
Friday 8 th November 2013